ARCHIVES THE EDITO
Submitted by admin@iafpaipf on Wed, 11/19/2014 - 12:36
Interview with Dr. Heinrich Beyer, Managing Director of the German National Centre for Employee Financial Participation – AGP
Heinrich Beyer is committed to the dissemination of employee participation Germany. In the German Federal Government he sees little interest. "Other topics have more priority in Berlin."
From WILHELM HÖLKEMEIER, Südwest Presse 16th May 2014. Translation by AGP.
Dr. Beyer, in the German Government it is consensus that the promotion of employee participation is an important social goal. But we cannot see any activities. Why is that?
We regret that because we face an increasing interest of the companies, especially of small and medium-sized enterprises. The fiscal framework for employee financial participations is very unfavorable. A new employee participation law was passed in 2009. This has brought positive changes but is still far from being sufficient.
Is this issue not on the agenda of the Berlin coalition?
Other political issues have more priority at the moment. That's why we are not making any progress at this time. But what we know from various ministries and also from some state governments is that there are initiatives which will put back this topic on the political agenda. After the summer break we will advertise in the responsible Federal Ministry of Labor again for that meaning.
How could the government improve the current conditions?
We demand a deferred taxation or higher tax-exemptions for employee financial participation. Of course the Treasury asks for the costs for the state due to the default of tax revenues and social contributions. But the benefits for enterprises, employees and society would clearly outweigh.
Many countries in the EU are far ahead of us. What are the reasons for that?
That is a question of what are our priorities. Other countries have learned that specific incentives can promote employee financial participation and private asset formation. We have tax incentives very one-sided focused on occupational pension schemes. But in this field we have high costs and low revenues - in contrast to employee financial participation schemes.
It is seen as a big disadvantage of EFP-schemes that in case of bankruptcy of a company the employees will lose their job and also their investment.
Employee financial participation is an entrepreneurial investment which is connected with chance and risk. In the case of insolvency the employee-investors will lose their money. That is a fact and should be clearly communicated to all employees who are interested to take part at such a scheme. It is not possible to achieve a high level of safety and high returns with one product. That's why no one should put all his money on one card. Therefore almost all companies take precaution in that way, that they limit the investment of each employee. Apart from that employees can decide for themselves whether they want to participate at the company's success or not. For that decision they have the best imaginable information because they "work inside their investment" – day by day.
What do the companies expect to gain?
Only a few companies gain to collect money from their employees. Today enterprises will get money much more comfortable from a bank. Especially for the typical medium-sized company financial participation is a way to highlight the trustful and cooperative relationship with the employees. With regard to the lack of qualified workers in Germany that can be a crucial advantage in the war for talents with other companies.
The Awards Ceremony of the second European Social innovation Competition
This Ceremony took place in Brussels the 20th of May, as a conclusion of a 2 days Social Policy Innovation Conference launched by the DG Enterprise and Industry of the European Commission.
The 3 winners (out of 1 254 ideas received) were awarded a prize of 30 000 € each by Mr. Michel Barnier, European Commissioner.
This event, where the IAFP was represented by Jean-Michel Content, Secretary General, was an occasion for Michel Barnier to remind the key social challenges for the European Union, and incidentally to ask everybody to participate in the next ballot for the European Parliament. He particularly insisted on the statements included in "Europe 2020"on the subject and on the achievements by the Commission in this field.
The three winners, from three countries (Italy, Belgium and Ireland) presented very different projects:
- Italy: "From waste to wow": fashion business demands perfection, and slightly damaged textile cannot be used for top brands. The project intends to recycle this first quality waste into limited collections and thereby provide jobs to disadvantaged women. This is about creating highly marketable products and social value through recycling.
- Belgium:"Urban Farm Lease": urban agriculture could provide 6 000 direct jobs in Brussels, and an additional 1 500 jobs considering indirect employment (distribution, waste management, training and events). The project aims at providing training, connection and consultancy so that unemployed people take advantage of the large surfaces available for agriculture in the city (e.g. 908 hectares of land or 394 hectares of suitable flat roofs).
- Ireland: "Voidstarter": all major cities in Europe have "voids", units of social housing which are empty because city councils have insufficient budgets to make them into viable homes. At the same time these cities also experience pressure with social housing provision and homelessness. Voisdtarter will provide unemployed people with learning opportunities alongside skilled tradespersons in the refurbishing of the voids.
International conference, York, April 2-3 2014
Employee Ownership: Research and Practice
The two day Conference which took place in York on April 2-3, 2014 was organised by the White Rose Employee Ownership Centre, a common creation of the three Universities of York, Leeds and Sheffield.
With more than forty participants-representatives of companies, experts and academics- coming from various European countries including Poland and Switzerland, this event was a real success. There is clearly a lot of interesting research being conducted into all aspects of employee ownership and employee share ownership, and enormous potential for collaborative work between researchers, practitioners and policy-makers.
The discussion at the end of the Conference on future activities was found very helpful and the WREOC will be working to take this forward.
IAFP was represented by Kevin O'Kelly and Jean-Michel Content, who made a presentation on "Policies and attitudes to financial participation in the EU".
Brussels Conference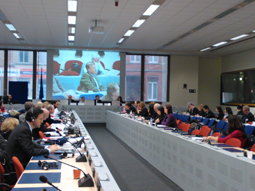 The European Commission, DG Internal Market and Services, in conjunction with two German universities, hosted a major conference in Brussels on 30 January 2014.  The conference was attended by some 130 persons from EU institutions and Member State administrations, social partner organisations, academics and representatives of organisations promoting employee financial participation arrangements in EU Member States, including the AIPF/IAFP.  The conference is part of a 2014 Commission funded project Promotion of Employee Share Ownership – Debating Policy Options.
In opening the conference (by video), Commissioner Michel Barnier welcomed further debate on the promotion of financial participation in European enterprises.  He sees financial participation as part of the reformed financial regulation architecture the EU is introducing and, as part of this, he said that there is a need for long-term investment for employee share ownership to enhance corporate governance – 'employees know the firm better than external shareholders and thirty years of research shows the employee share ownership firms are more profitable, more competitive, create more jobs and pay more taxes than firms without employee share ownership schemes … there is a need to highlight, not only the obstacles, but also concentrate on the benefits'.
M Barnier's Chef de Cabinet, Olivier Guersent, outlined the Commission's support, in particular for employee share ownership arrangements, observing that it is successfully used and popular in many Member States, with about 20% of companies operating within the EU having share ownership plans.  He noted that SMEs find it difficult to introduce financial participation schemes and that there are also problems in extending these schemes further because of a number of barriers, such as national legal frameworks and minimal tax incentives in some countries. (1) 
The Chair of the European Parliament Employment and Social Affairs Committee, Pervenche Berès MEP, in her intervention, regretted that not enough has been done at the EU level to help enterprises introduce financial participation plans and asked how can employee share holding be used to increase employment in SMEs?  She drew attention to the EP Report of 15 January, 2014, which states that financial participation can change the way companies are managed and suggests that the European Globalisation Fund could be extended to allow employees to purchase their companies.  She said that there is a wide spectrum of political support for financial participation in the EP (this was reiterated by the Report rapporteur, Phil Bennion MEP, later in the conference).  Both Mme Berès and Mr Bennion hoped to see legislation during the next parliament, following the May elections.
Other speakers included Graeme Nuttall, UK Government Adviser on Employee Ownership, who presented his report and the recent actions of the Government to promote employee share ownership; Jean-Philippe Debas, Equalis Capital, France, who called for France to have greater tax breaks to encourage owners to sell their companies to employees, as is the case in the US and UK; Patrice Liauzu, European Investment Bank, who announced that the EIB is shifting its focus from long-term capital provision to providing working capital, in particular for SMEs, and that the bank's Horizon project will provide funding for business transfer.
During the feed-back round-table, IAFP reminded to have initialized the "Draft-Model Plan" in 2005 with an experts-group, pthis project being financially supported by the EC. This Draft-Model Plan could be part of the necessary "How to?" step delivering information and tools to relevant deciders so they concretize FP plans and more particularly to solve SME successions.
There were five key conclusions from the conference:
Ø  The need to establish a legal framework for employee share ownership
Ø  Promote an exchange of 'best practice'
Ø  Better transparency with regard to fiscal treatment and tax incentives
Ø  Combine economic and labour market policies and reduce inequalities
Ø  Incorporate employee share ownership plans into corporate governance and long-term investment strategies.
Finally, in order to achieve these five aims, social partners and all other relevant stakeholders should be closely involved in the process. Any promotion of share ownership plans should respect the fundamental principles set out in the 1992 Commission Recommendation and reiterated in the EP Report of 15 January 2014.  After many years of research and fruitful discussion the time has now come for concrete actions.
(1) For M Barnier's opening remarks and M Guersent's speech, see:
Abstract of a lecture by Michel Bon, Fondact's President, at the Employee Share ownership Award Ceremony , the 22nd of November 2013
Employee Share Ownership and more generally speaking Profit Sharing shows a lot of advantages. The most attractive are entrepreneurial. The social ones, through money savings, are very important too. But there are also economic advantages for the whole community, which are both significant and timely.
To prove them, Fondact have used the only academic research existing on the subject, by Professor Fakh Fakh. That research is based on the comparison of the enterprises leaders in the field of Profit Sharing with the others. There exists a panel of enterprises in which employees own a significant part of the shares and/or which have developed a Profit Sharing scheme that leads to the awarding of important bonuses. Then the performances of that panel are compared to those of the other enterprises found through the financial documents issued by all companies. And we can observe some behavioural differences statistically significant on a lot of aspects:
-         Less absenteeism,
-         Less turnover,
-         Less social conflicts,
-         Increase in employment,
-         Better wages policy,
-         Better productivity.
Those enterprises thus provide to the national community advantages which cope with our present difficulties. If all the other enterprises did likewise, we would reach a higher growth, a better competitiveness on the worldwide markets, a higher purchasing power, and more employment. It is to say that Profit Sharing seems to be the Grail that we thought lost. And that the Government will do everything they can to support it!! Unfortunately it is not the case: since the beginning of the crisis, the successive French Governments did what they could do to make those schemes less attractive. The consequence being that today more than one enterprise out of three decides not to renew the existing Profit Sharing agreements.
It is a pity, and especially because Profit Sharing is an answer to an underhand problem which is undermining our economic systems, how our wealth is distributed. Each year, an economic system creates complementary wealth- increase in wages, in dividends and rents, capital gains of any kind-. In the USA, where this kind of index is more popular than that of Profit Sharing, it appears sharply. Today, 99% of American people only benefit of 5% of the supplement of wealth. It should lead to a moral thinking, but also to an economic questioning.
In fact, growth seems to only benefit to those who do not need it. It is the basis of the argumentation of extremists (right or left) who present odd economic programmes which do not seem to disturb the public opinion. The main pillar of an economic policy should be making effective to all the benefits of the growth.
Of course, in France, we are not at the same point as American people, but the trend is the same. Mainly because the tool of taxes does not work any longer to efficiently correct the differences of wealth in a globalised economy and in a country where public expenses have already reached a very high level.
Nevertheless, there exists a means which you, employee shareholders, know perfectly well, which is Profit Sharing. With it, out of 100 € of distributed wealth, less than 1% benefits to the 1% richest people, because of the upper limit which exists. And, so, more than 99% of that surplus of wealth are for the others where they are kept and increase thanks to saving schemes and employee share ownership.
To summarize it, we can say that Employee Share Ownership and beyond Profit Sharing favour economic growth, and it can be proved. But this evidence is not shared. A lot of employers, many trade-unionists, almost all the civil servants, and politics are for the best neutral and for the worst opposed to it. So, what we have to do is to convince, convince, and convince again. If one of us succeeded in convincing a MP, we could achieve a real change.          
COMMUNICATION : The Jack FITZPATRICK Lecture, by Kevin O'KELLY
Lecture hosted by the Irish Proshare Association on September 19, 2013
IPSA hosted the 2013 Jack Fitzpatrick Lecture on 19 September, 2013, in the National College of Ireland.   The guest lecturer was Graeme Nuttall, who is qualified both as a solicitor and as a chartered tax adviser.  He is a Partner and Head of Tax Practice, and leads the Equity Incentives and Charities and Private Client Groups, in the law firm, Field Fisher Waterhouse. He is recognised as a leading expert on employee share plans with a particular expertise in employee owned businesses.  In February, 2012, he was appointed the UK Government's independent adviser on employee ownership, in a part-time voluntary role.
As a member of the UK's Treasury Employee Ownership Advisory Group he helped develop the approved share incentive plan and enterprise management incentives arrangements for HM Revenue and Customs. He drafted the Employee Share Scheme Bill, a successful Private Member's Bill.  He is also legal adviser to the Employee Ownership Association, the voice of co-owned businesses in the UK.  (See ...)
His lecture dealt with his experience promoting employee ownership schemes in the UK.  He said that what might work in the UK may not work in other countries because of cultural differences.  However, an employee ownership business model has been shown to work and it is firmly on the agenda of the UK Government, which is committed to promoting it as an alternative corporate structure.  The Government has set aside £20 million in 2013 for this promotion, plus a number of tax breaks on a) capital gains and b) an exemption from income tax and social insurance contributions, to encourage a greater diffusion of employee ownership as a corporate governance model.   Consequently, there is a growing interest and an increasing number of enterprises in the UK adopting the employee ownership arrangements.
Among the examples Mr Nuttall mentioned are the John Lewis Partnership, Arup Consulting Engineers, Swann Morton, a manufactures of surgical instruments, and Homecare, a network of elderly and disability care homes. He pointed to the Cass Business School study that found that employee-owned businesses tend to be more profitable, have a more committed staff and have proved to be more resilient than other companies in the downturn, The study suggests that employee ownership corporate arrangements could be a model for a fairer form of capitalism after the financial crisis.  The main findings of this study, sponsored by the John Lewis Partnership, are that employee owned enterprises:
Have a stronger long-term focus
That increasing employee representation at board level can improve performance
They invest more in human capital than companies with 'normal' corporate structures
They face greater problems when it comes to raising capital and dealing with regulatory requirements
They get more of their growth from adding new customers compared to companies with 'normal' corporate structures
They show greater preference for internal growth over external growth
They have a more positive media image
Employee commitment supports the strategic imperatives of employee owned enterprise.
There are three possible models, which are the subject of debate among various interested parties in the UK – direct employee ownership; indirect employee ownership; and a hybrid of these.  How an enterprise structures its employee ownership model impacts on its corporate governance.  Indeed, the management of an employee owned enterprise does not need to be any different from a 'normal' company.
While it is important to build the expertise in employee ownership models and to ensure that enterprises considering this approach have the professional support and advice, it need not be complicated.  Professional advice can be provided through professional organisations and business schools. Also, the Cabinet Office website contains a practical 'tool-kit' covering taxation, accounts and legal issues and the conciliation and arbitration service, ACAS, provides guidelines for both owners and employees. (See ...)
 Mr Nuttall concluded by saying that it is also important to build a critical mass of employee ownership champions, enterprises that can underline the success of the model and, to achieve this, the UK Government has set a target of 10% of companies to be employee ownership enterprises by 2020.
Kevin P O'Kelly       October, 2013
EDITORIAL by George TUTHILL, IAFP President
I do believe that in the current challenging economic environment it is important that we find ways to improve competitiveness and productivity without increasing the base cost. There is a need to encourage fair and equitable means of Employee Financial Involvement, support these goals and provide a framework that would enhance the provision of EFI for individuals and companies alike as it has a vital role to play in the world economic recovery.
As a management tool EFI is an increasingly important element of a Human Resource strategy for many companies. At all times, but more importantly in challenging and competitive environments, the importance of developing a reward and benefits system that aligns employees' interests is recognised by companies. Companies are looking at EFI as being a platform to support cultural change, greater communication and the development of more partnership based employee relations. Employers have realised that a happy, involved and motivated staff is more industrious and productive. They also accept that sharing the fruits of success with their employees is a good way of stimulating further success. They now recognise the benefits of sharing the wealth and success of the Company with what is their most important resource – their employees.
The knowledge that employees have a financial stake in their company can only incentivise people to approach their work thoughtfully and conscientiously and be innovative, leaving not only themselves, but customers, investors and the economy as a whole, better off.
In the US there are just under 11,000 Employee Share Ownership Plan Companies employing more than 13 million people. Research from the US shows than in 2012 12.1% of all working adults in the private sector reported having been laid off during the previous 12 months, compared to just 2.6% of those respondents who took stock in their company through a company-sponsored employee ownership plan. This certainly is proof that EFI makes good business sense at any time, but more so how it can provide real solutions in a recession.
Closer to home the Nuttall report showed that companies in the UK that operated Employee Share Ownership Plans achieved 50% greater growth than the average growth rate of FTSE 100 companies. Employee-owned firms have, on average, 4 to 5% higher productivity than other businesses and the Employee Share Ownership Index has outperformed the FTSE All Share Index by an average of 10% annually since 1992. By any measure that is significant. His findings also give clear evidence of stability in companies that are part owned by their employee and considerable reduction in absenteeism in these companies resulting in increased productivity.
The importance of the innovative capacity has never been greater in order to remain competitive in today's volatile markets. Workplace innovation is a vital means of unlocking talent and know how. Involving and engaging employees in the workplace means being "open to change and partnership". It is about building a culture of openness and trust based on communication and consultation with employees. It involves developing reward systems that encourage learning, risk-taking and team work, resulting in higher productivity levels and retaining key employees. Employees should be suitably rewarded by the introduction of EFI, resulting in employees thinking like owners.
While growth in the economy is driven by innovation it is essential that governments' tax policies contribute to the innovation agenda. Obviously there is much more to great innovation than a favourable tax treatment but research shows the link and that business leaders agree in the importance of these incentives. The European Council are to hold a special meeting about innovation which may well put the subject to the fore as it is now seen as the most important driver of growth and productivity.
NEWS
European Commission : Communication for an Action Plan of improving European company law and corporate governance (PDF version)
As part of the Europe 2020 agenda, the European Commission (DG Internal Market) has published a Communication for an Action Plan of improving European company law and corporate governance.  This is in response to the submissions made during the consultation process on the Green Paper published in 2011.
The Action Plan makes proposals for changes in company law with regard to transparency; corporate governance reporting; improving shareholders' oversight, in particular in relation to remuneration policies and other company actions.
The Action Plan also acknowledges the importance of employee share ownership and the fact that financial participation already has a successful tradition and a track record in many Member States.  As there are a number of key issues to be addressed, such as taxation, social security and labour law, the Commission propose to investigate the potential obstacles to trans-national share ownership schemes and will subsequently take appropriate action to encourage employee share ownership throughout Europe. 
This renewed interest of the Commission seems to be a re-run of the push to promote financial participation arrangements ten years ago, with the publication of its Communication in 2002, the subsequent work of the de Foucauld High Level Group and its report in 2004 and the Eurofound Benchmarking report, also in 2004.  Not to mention the findings for the wide range of European Commission funded projects on financial participation undertaken by many organisations over the past decade, including the IAFP, in particular, its work in designing a Model Plan for Financial Participation in the European Union, which is still available to the European Commission.
----------------
At ADP (Germany) last annual congress, on May 28, the "2013 Star" price was granted to ANDREAS STIHL AG &Co to reward the exemplarity of its Financial Participation governance and practices with 76% of employees "participating".
NCEO (National Center for Employee Ownership / USA) sales its "ESOP COMMITTEE GUIDE33. The definitive guide to creating, developing, and maintaining a successful ESOP committee, with information on everything from determining the mission of the committee to ensuring its continued effectiveness in the face of difficulties. See  : NCEO.
The International Association for Financial Participation sent three delegates to the 24th Conference of the ESOP Centre, held in Paris on the 21st and 22nd June 2012. David Hildebrandt, its past President, delivered a presentation on "Global Fiduciary Best Practices on Plan Administration". Jean-Michel Content, its present Secretary General, spoke about the French Employee Financial Participation, and its next steps.
Raymond Allouf, IAFP's former Secretary General, has been awarded the prestigious Rémy Schlumberger Award just as Malcolm Hurlston, President and Founder of the ESOP Centre. This award, created in 2000, is granted to an individual, company or government enterprise, which performed extraordinary service to the principles of financial participation, education and share ownership by employees. The award was granted only six times since its creation.
Besides, IAFP goes on with participating to new European Projects, as a partner of DIESIS which submitted two new proposals to the European Commission. Both were successful and the Kick-off meeting took place in October in Brussels. The first project intends to investigate the role of social partners in planning local development in a logic of economic democracy. The second relates to the European Co-operative Societies. Both are in the framework of the PROEFP Project which started a little more than one year ago, following the publication of the Own-initiative Opinion Soc 371 by the European Economic and Social Committee on employee financial participation in Europe.
IAFP is a member of the PROEFP network.
English